X•APE
Paragliding adventure in the Wild heart of Italy
2 – 9 June 2023
Description:
X•Ape
is a real paragliding adventure in the Wild heart of Italy. The goal is to cross the Central Apennine mountains by flying, with the help of logistical support. We will start in the North of the Central Apennines, covering daily a distance between 50-80km to our next waypoint where we will sleep in an agriturismo or B&B, to end up after 5 days in the south of the Central Apennines. Pick you up will be foreseen between the waypoints. This makes it a perfect trip for different levels of XC pilots.
Depending on the weather forecast the route can be adapted in order to have the best flying conditions. The places we will cross are Monte Subasio, Poggio Bustone, Leonessa, l'Aquila and San Donato. The exact route will be revealed later.
Program:
The morning starts with a detailed meteo briefing, flight planning with waypoints, and analysis of the orography. During the flight, you will get coaching and guidance from Jo. He will show you the best route, give you tips and make sure you fly safely.  In the evening we relax with some good Italian food and a de-briefing and analysis of the day.
It's a nice experience to improve your XC skills and enjoy spectacular landscapes.
The cross-country adventure will run from Friday 2 June and end date on Friday 9th of June.
Airport picks up from Rome can be arranged from the 1St of June and depart from the 10th of June.
Accommodation :
We will stay every day in a different location, agriturismo or bed & breakfast, campings.
Cancellation Policy :
The period of cancellation until 30 April 2023 provides a refund of 75%  after that date refund will be 50%
If the event will be canceled by the Organization the refund will be 80%​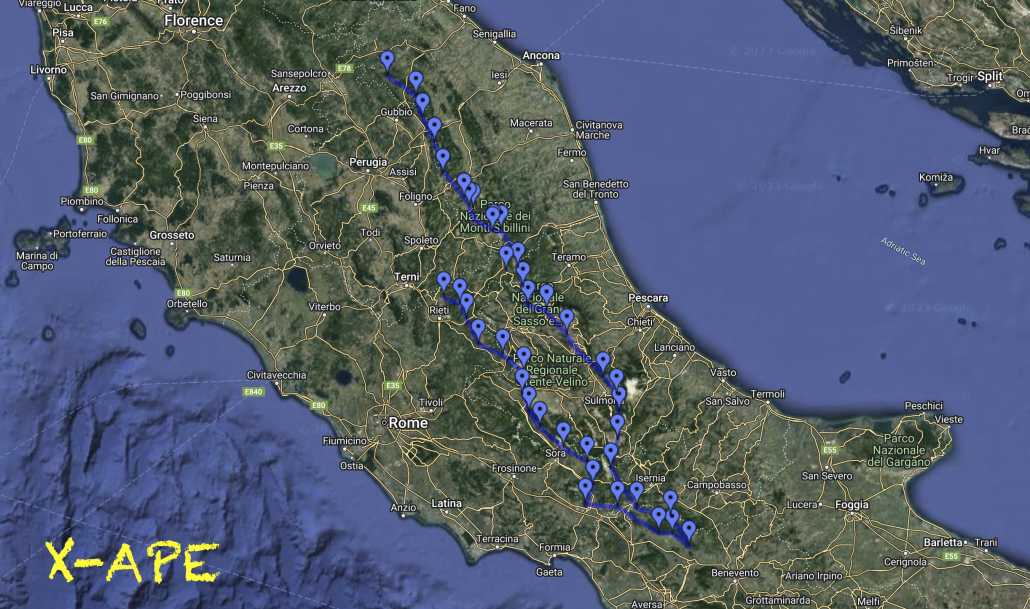 1
Start of the Flying adventure
Sports support
Flight supervision by Jo

Daily weather briefing  – Flight area briefing

Transport to the launch site by Shuttle bus

Flight technique

Thermal and route instruction

Individual care radio support

Organization of an alternative program
Included
Daily meteo briefing, task and site briefing
De-briefing
Transport to flying sites and retrieval
Organization of the trip
Shuttle bus and Driver

Booking an overnight stay with breakfast in a double room (single room depending on availability)
Services not included
Return flight to/from the destination airport

Overnight in a hotel/guesthouse

Start and landing fees, permits, possible association memberships, etc.

Trip cancellation
Required:
Thermal and intermediate XC skills
Autonomous on take-off and landing
Flying equipment
Pilot license and insurance
Extra Travel Service 
Airport pick-up (from Rome)
The price is covering all the costs mentioned in the description.

0
Days
0
Hours
0
Minutes
0
Seconds